After my last post, one of my cousins got nostalgic for her old Bukvar and thought she'd try to buy one online. She found one on Amazon, to the tune of $2,450. My heart is breaking that I didn't have the fortitude to do anything more useful with mine than mark it all up for a future blog post. I thought I'd share some of the things I learned about the happy Soviet childhood while flipping through the Bukvar.
1. Soviet children don't smile, even when they're playing with a giant pile of sand. (It's not even in a sandbox!)
2. They do all kinds of dangerous manual labour that even most North American adults couldn't handle.
3. Addendum to #1 – they do smile when they're labouring on the kolkhoz in their Pioneer scarves.
4. They spend time in the woods. Alone. They're also allowed to pick mushrooms and carry rifles. But only the boys, even when they're half the size of the girls.
5. They do "zaryadka" (calisthenics). They still don't smile.
6. They want world peace. Because they come from a happy, peaceful people.
7. They do not have "yummy mummies". 
8. They are guarded by Yuri Gagarin when their parents leave them home alone.
9. They know that the world has smart people and stupid people and they don't mind saying so. (Also, it's never too early to learn a practical skill.)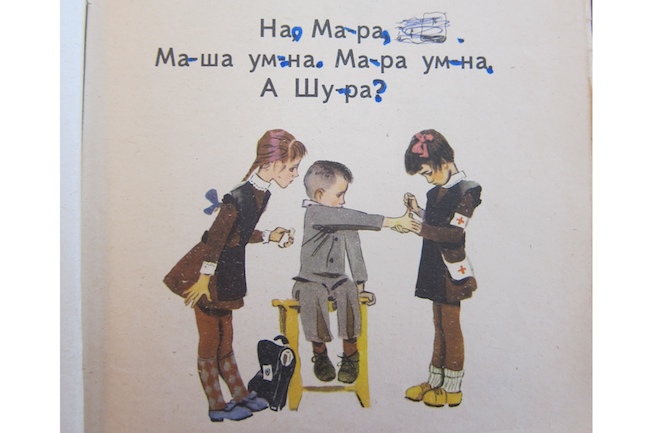 10. And let's not forget who we have to thank for all the wonders of this life — Papa Lenin. Papa Lenin is always watching. Always.
11. And because you can never start too young, we close with a mini-essay about Lenin. Because there's no time to waste once you've learned your letters.
12. And, of course, "peace." Or "world." Conveniently, the same word in Russian. Also, diversity. (No, seriously, this really is the last picture in the book.)